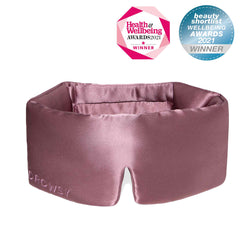 An anti-ageing silk mask that helps you sleep in total darkness. Yes. It's pretty much perfect:
✔︎ Big, squishy, cloud-like padding
✔︎ Total black-out design
✔︎ 22 momme, pure mulberry silk
✔︎ Fully adjustable head strap
✔︎ Hypoallergenic, moisturising & breathable
100% washable. Masterfully crafted by Drowsy for maximum comfy vibes. Wear this luxury silk mask for an uninterrupted beauty sleep every night. Provides the ultimate escape for weary eyes.
FREQUENTLY BOUGHT TOGETHER