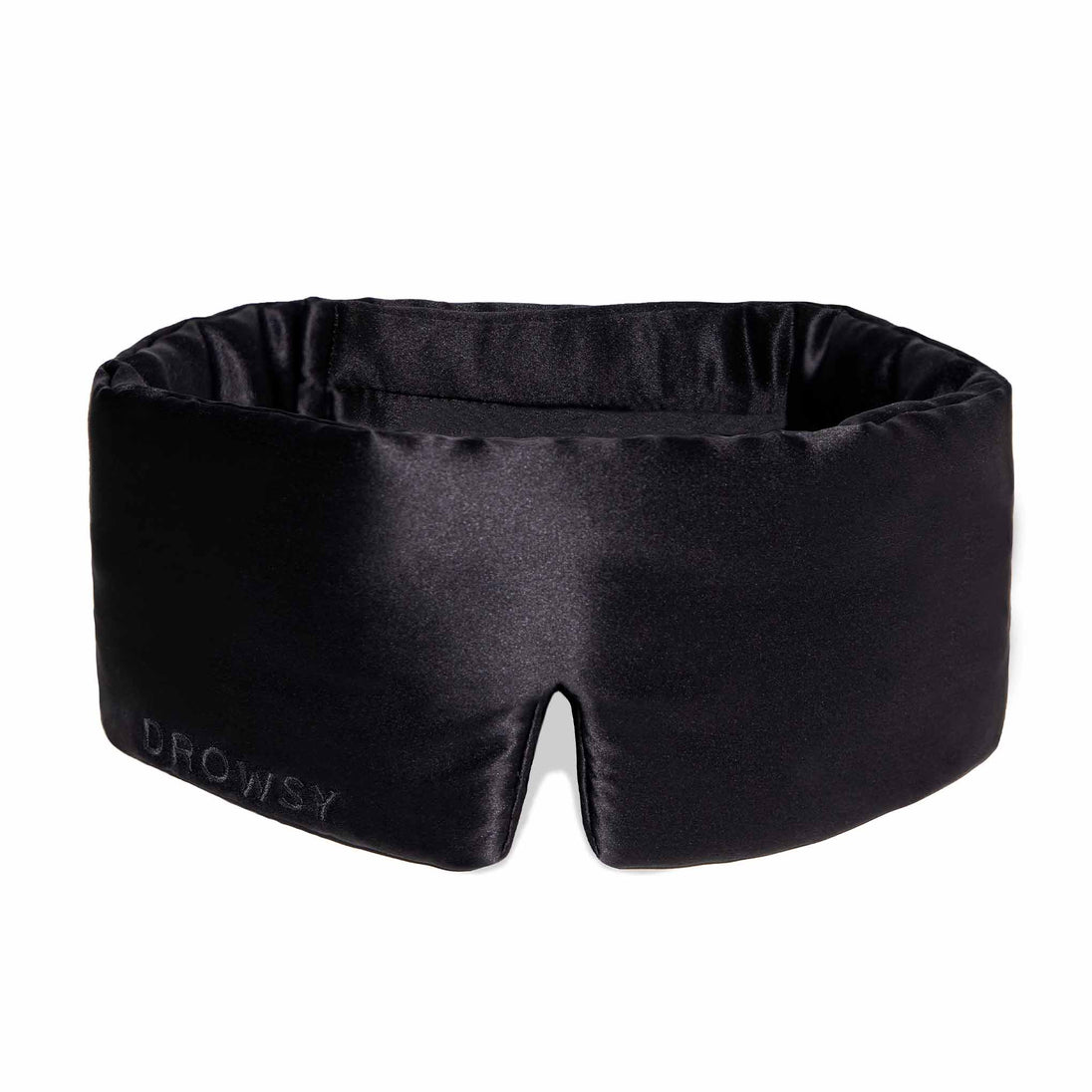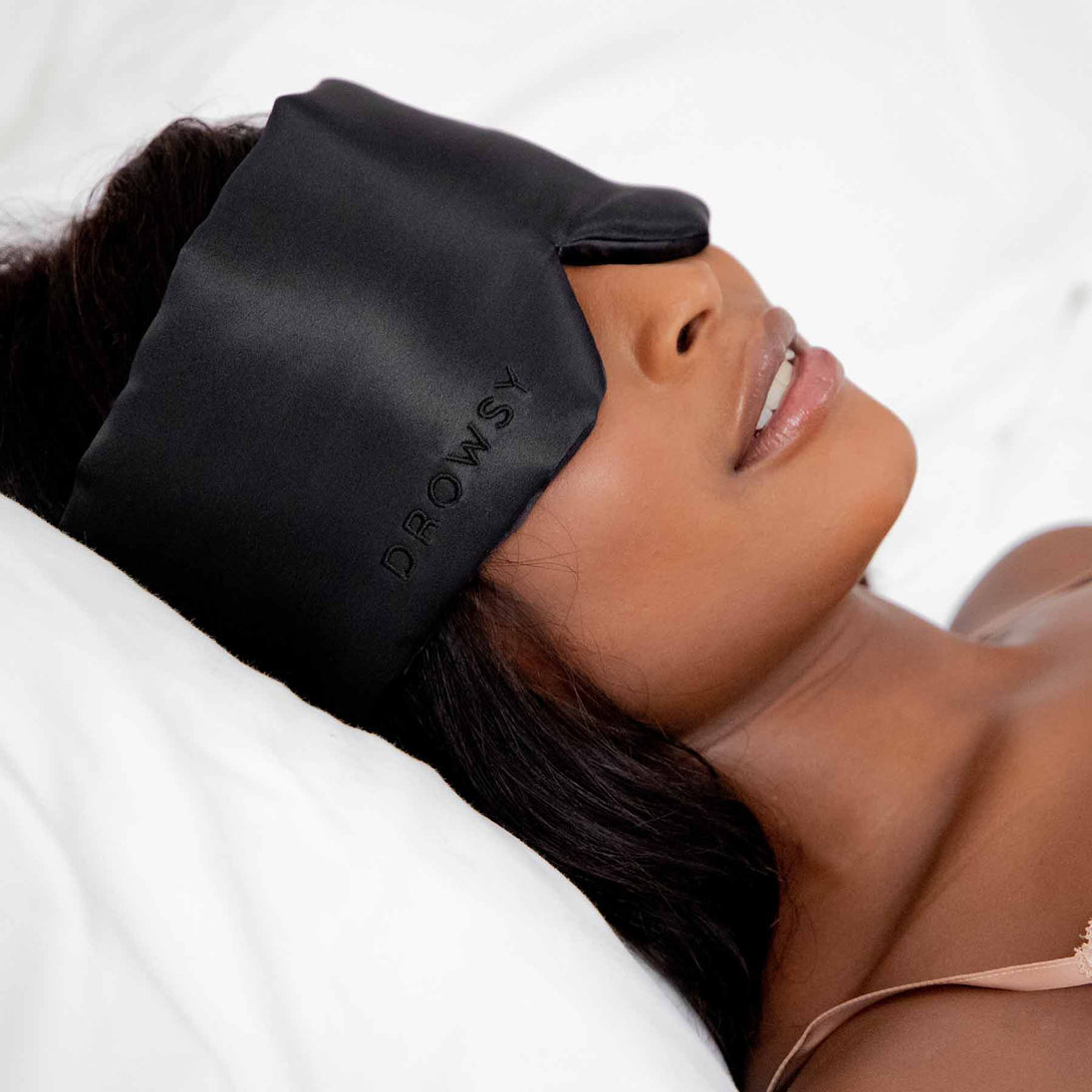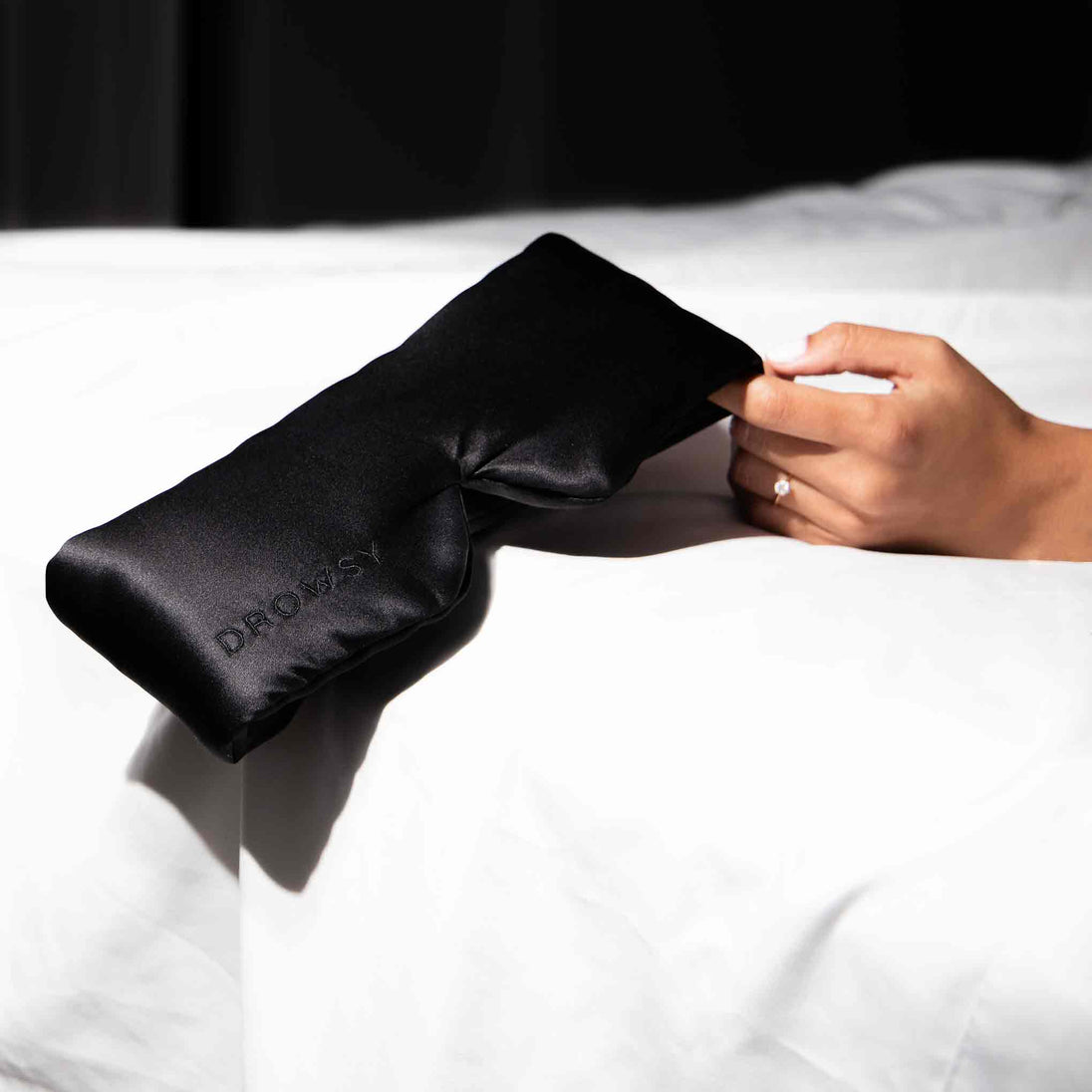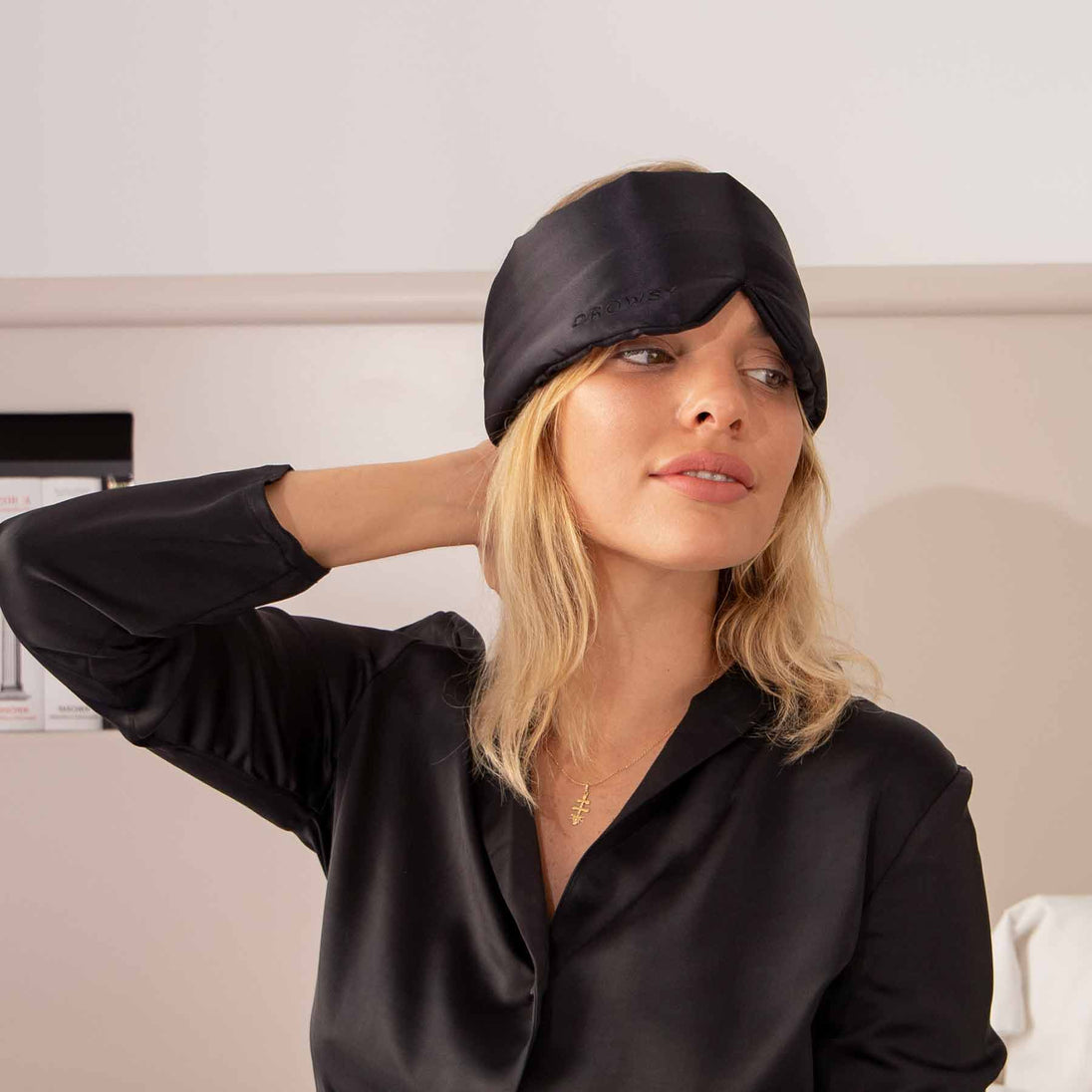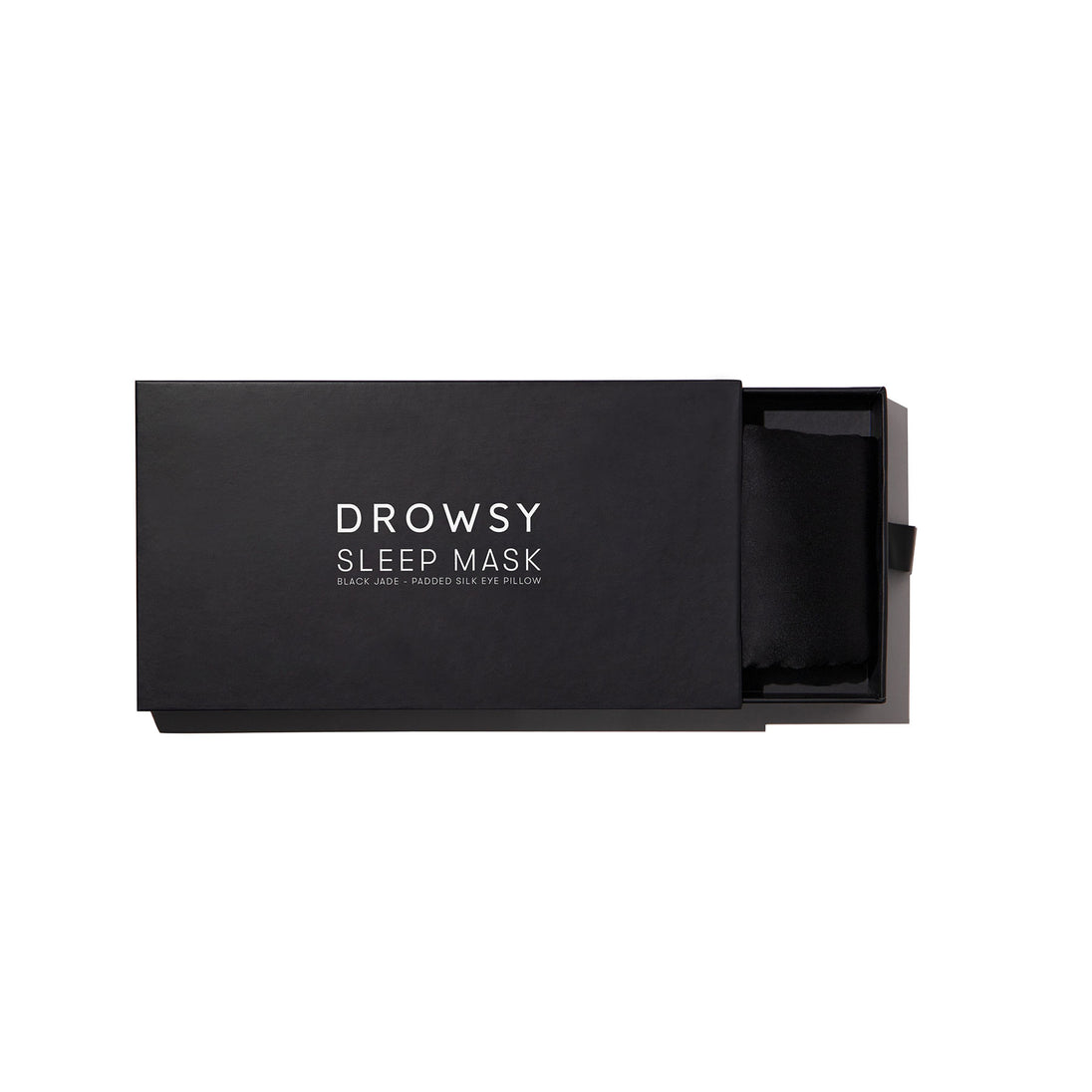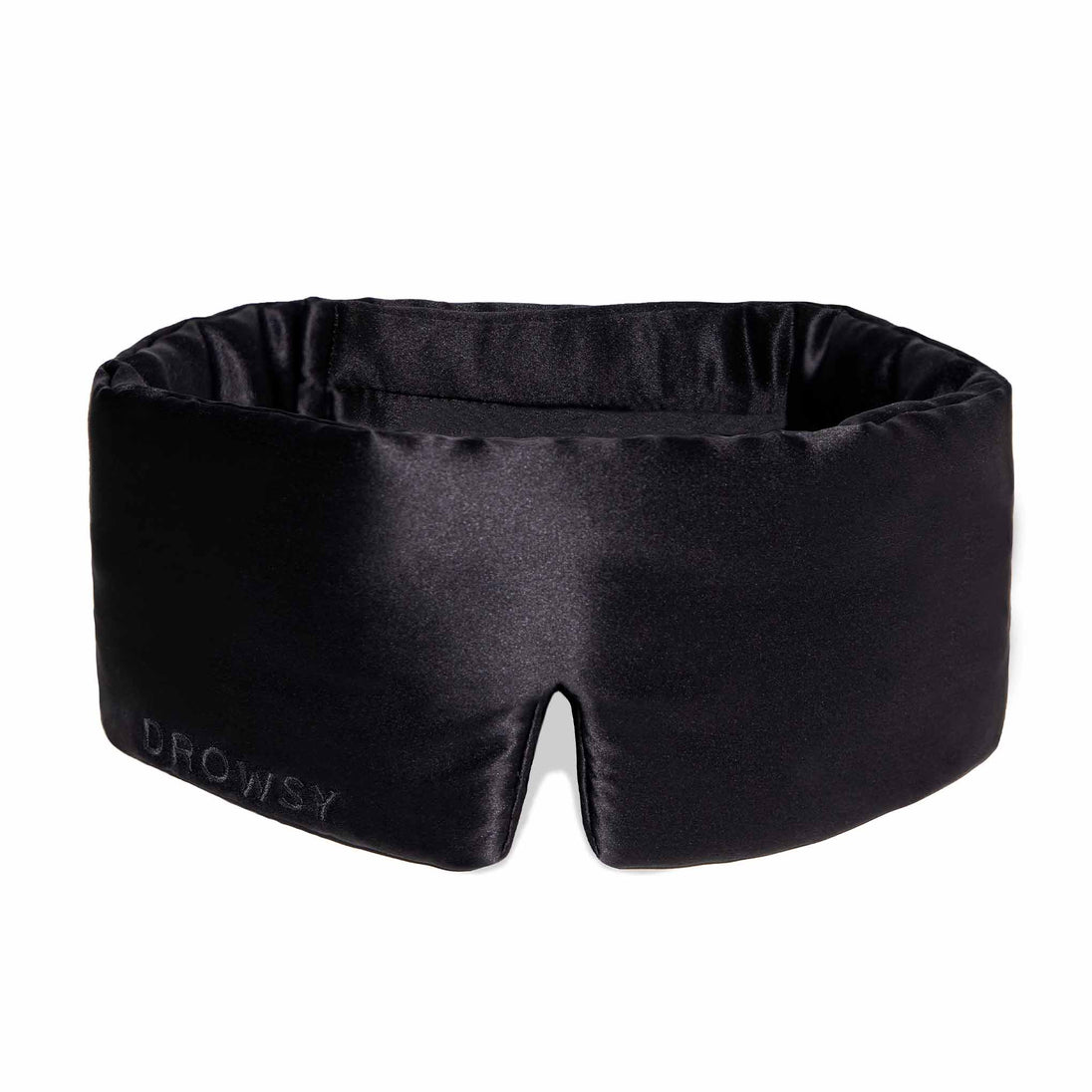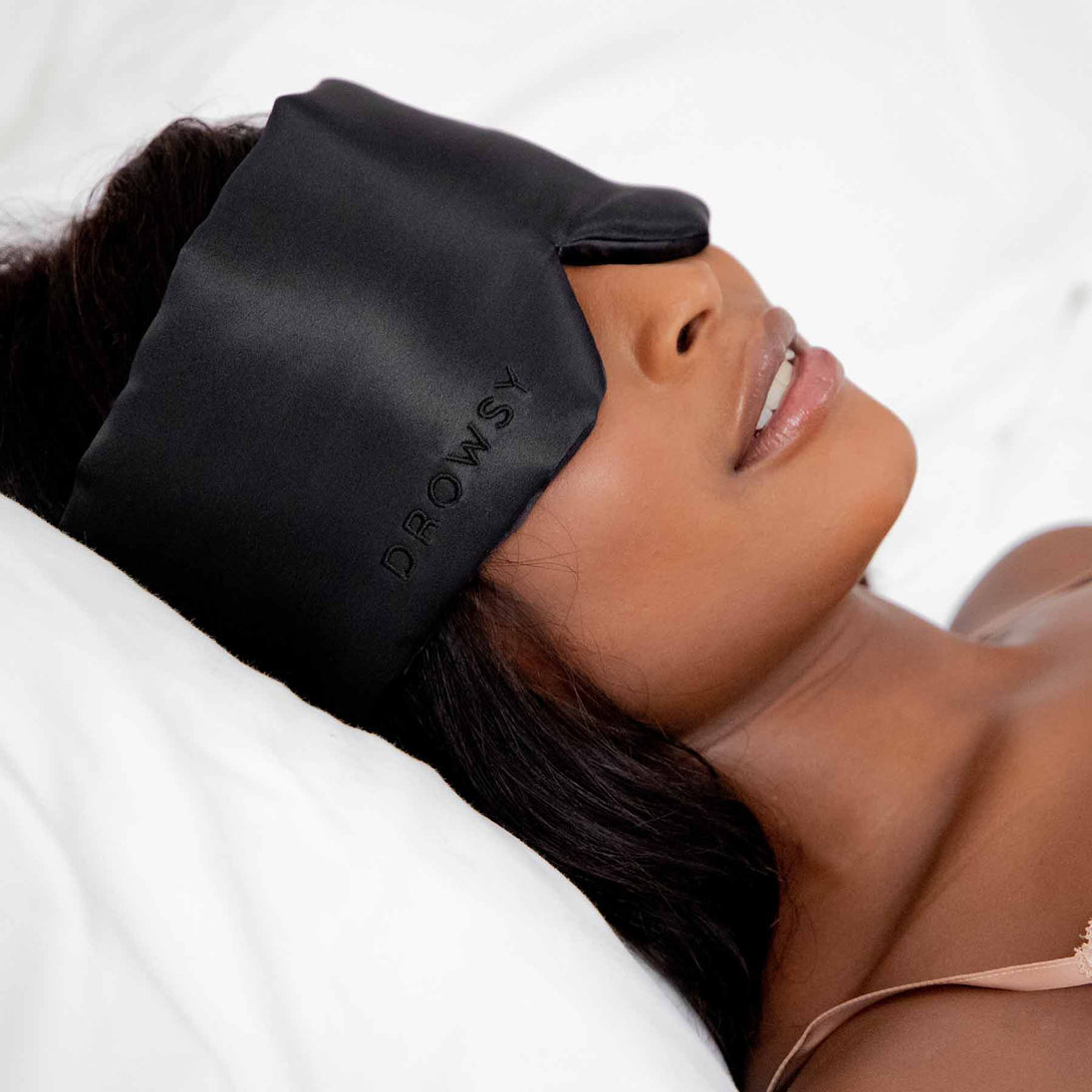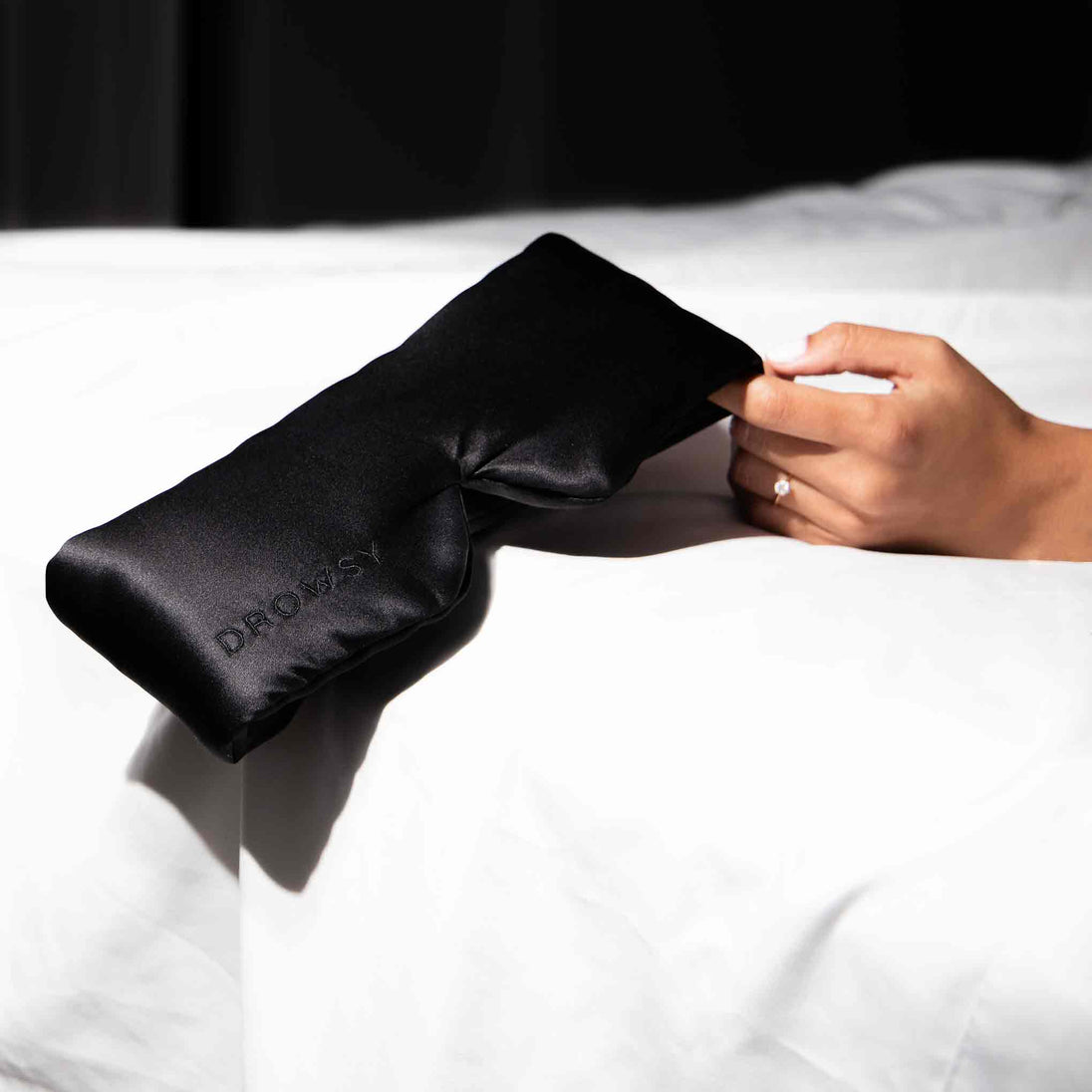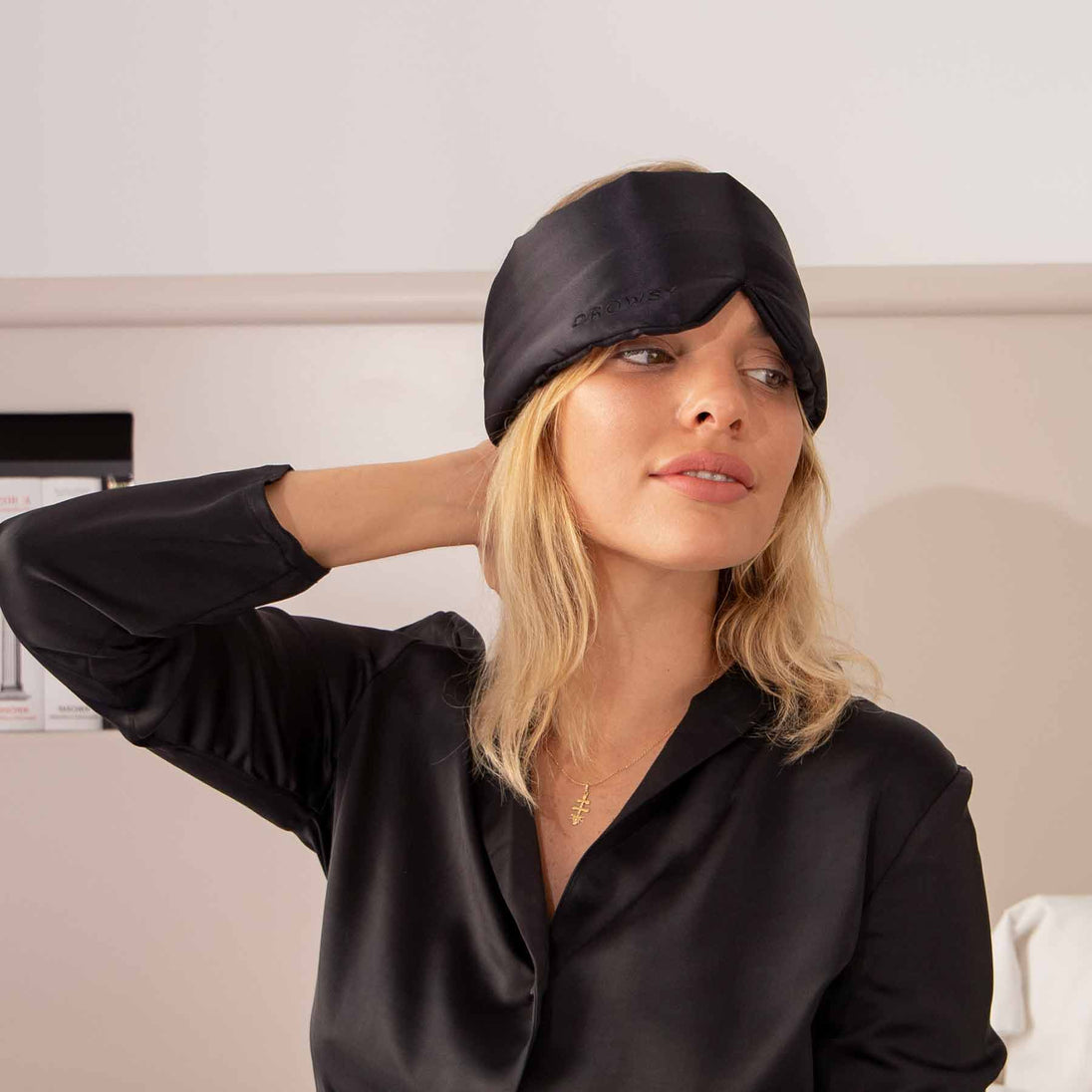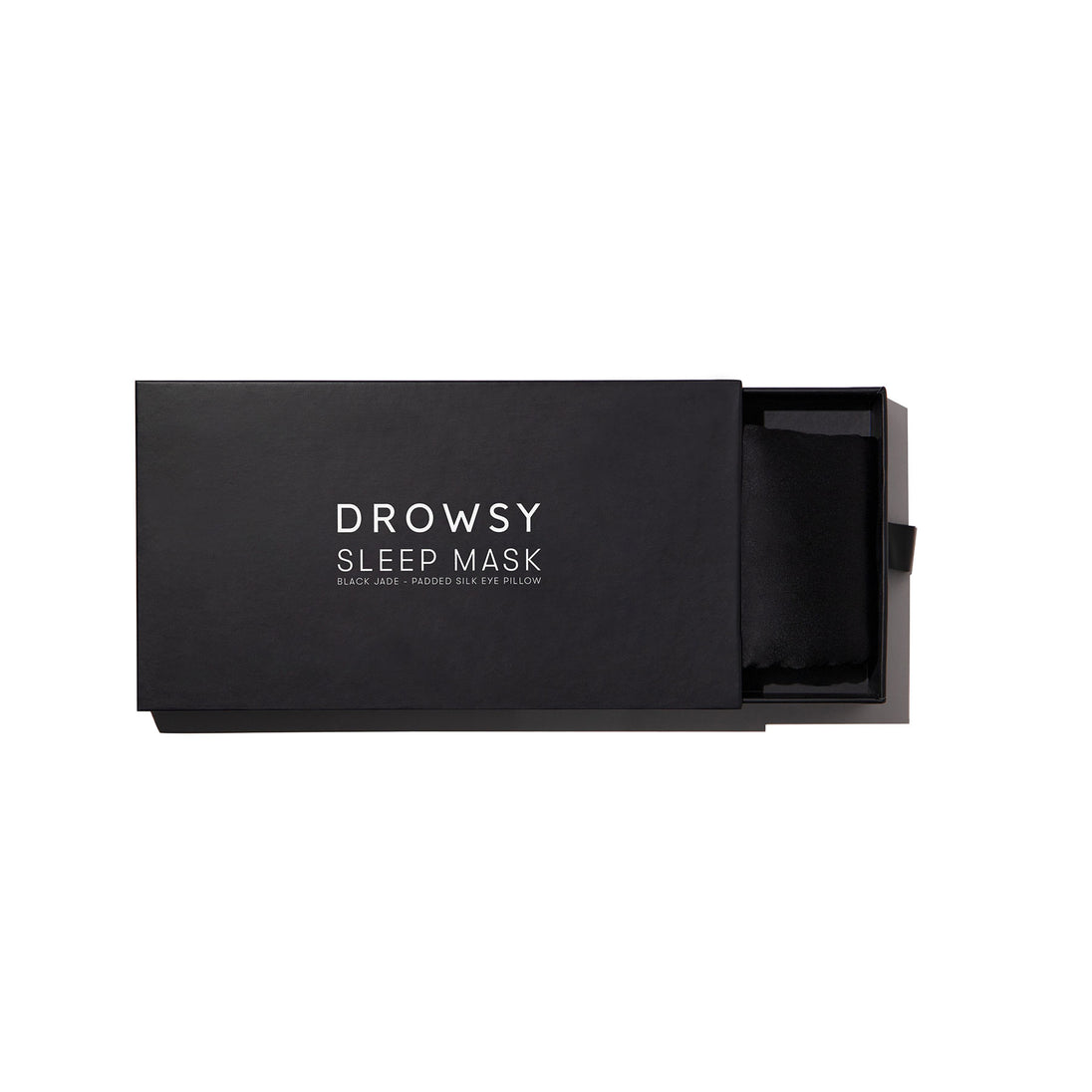 Black Jade
SILK SLEEP MASK
$79.00
"This sleep mask is like someone is hugging
your face, I cannot describe how amazing it is."

Vogue Williams
✔︎ Big, squishy, cloud-like padding
✔︎ Total black-out design
✔︎ 22 momme, pure mulberry silk
✔︎ Fully adjustable head strap
✔︎ Wrap-around skin and hair protection
✔︎ 100% washable
Masterfully crafted by Drowsy for maximum comfy vibes. Wear this luxury silk mask for an uninterrupted beauty sleep every night. Provides the ultimate escape for weary eyes.
15% Off
When you buy any 2 sleep masks.
*Automatically applied at checkout
THE CULT SILK SLEEP MASK. AS SEEN IN:
NEXT-LEVEL BEAUTY SLEEP
IN TOTAL DARKNESS

This game changing mask blocks out 100% of sleep-interrupting light. Slip into the Drowsy sleep cocoon, and pillow your eyes with the purest padded silk. Perfect for protecting your skin and hair. Sensational for switching off from the world.

*Reminder: Check what year it is when you wake up.
22 MOMME DROWSY SILK
Get all the benefits:
SKIN
Amino acids in silk have been found to reduce ageing. The moisture retention properties of the fabric keep skin youthful and vibrant.
HAIR
The smooth surface, natural properties of silk help reduce the friction on hair that causes long-term damage, split ends and thinning.
COMFORT
The cloud-like quality of silk instantly calms you. The softness of the material coaxes the nervous system into relaxation and sleep.
HEALTH
Silk is naturally anti-fungal. The protein structure prevents allergens from gathering which can help with asthma and eczema.
22 MOMME DROWSY SILK
Get all the benefits:
SKIN
Full-face, silk protection for your skin and eyes. Anti sleep crease.
HAIR
Wrap your hair in smooth, gliding silk. Strapless, protective design.
COMFORT
Experience the cloud-like quality of this heavenly silk eye-pillow.
WELLNESS
Invest in the ultimate addition to your nighttime routine.
SO GOOD, You might never want to take it off

100% True Blackout
Unlike your average sleep mask, our double lining and fluffy-cloud padding blocks even the tiniest ray of light.

The result? A big, squashy, silky retreat from the world, until you're ready to wake up feeling refreshed.
WIDE STRAPLESS DESIGN
Ever tried a conventional sleep mask? This is nothing like that. With Drowsy, straps are a thing of the past. So no awkward ear hold and no slipping off. Like a hug for your face, and a pillow for your eyes.

Yes, it's pretty much perfect.
NEXT-LEVEL COMFORT
This isn't your average sleep mask. The Drowsy silk mask is a cocoon from the outside world. The combination of lustrous padded silk transforms what would otherwise be a normal night, into a glorious ritual.

Why did we make it so good? Because no-one deserves ordinary sleep.
THE SILK SLEEP MASK
OF CHOICE. AND
WITH GOOD REASON.

✔︎ Non-slipping design
✔︎ Cloud-like inner padding
✔︎ Sound-muffling
✔︎ 100% pure silk
✔︎ True blackout
✔︎ Protects skin and hair
✔︎ Ultimate bedtime experience
THE ALTERNATIVES
✘ Slip off during night
✘ Thin, unpadded lining
✘ Uncomfortable over ear strap
✘ Synthetic fabric
✘ Light enters from all sides
✘ Skin creasing and bed head
✘ Poor quality products
CELEBRITIES AND BEAUTY EDITORS LOVE DROWSY
"I would be lost without my fully adjustable Drowsy silk eye mask."
Sarah Jossel - Sunday Times
"I heard nothing and saw nothing until I woke up naturally."
Martha Alexander - Metro
"I cannot describe how amazing it is. It has changed my sleep!"
Vogue Williams - MEDIA STAR
AVAILABLE IN 13 SENSUAL COLOURS
Select yours: